What is invoice software for New Zealand?
Invoice software for New Zealand is a set of effective means by which your business can manage invoicing process smoothly in New Zealand. Utilizing other traditional means of charging customers could be time-consuming and inconvenient both for you and your client. Instead, invoice software offers an even better way to go about these transactions.
The optimization of the billing and payment collection process with invoicing software leads to higher liquidity, more flexibility, and accuracy of the financial forecast. In simple words, invoicing software helps to optimize the overall process from billing to a payment collection. Let's understand how invoicing software adds value to the overall business processes.
Click the image to see live demo version of invoice software for New Zealand without registration: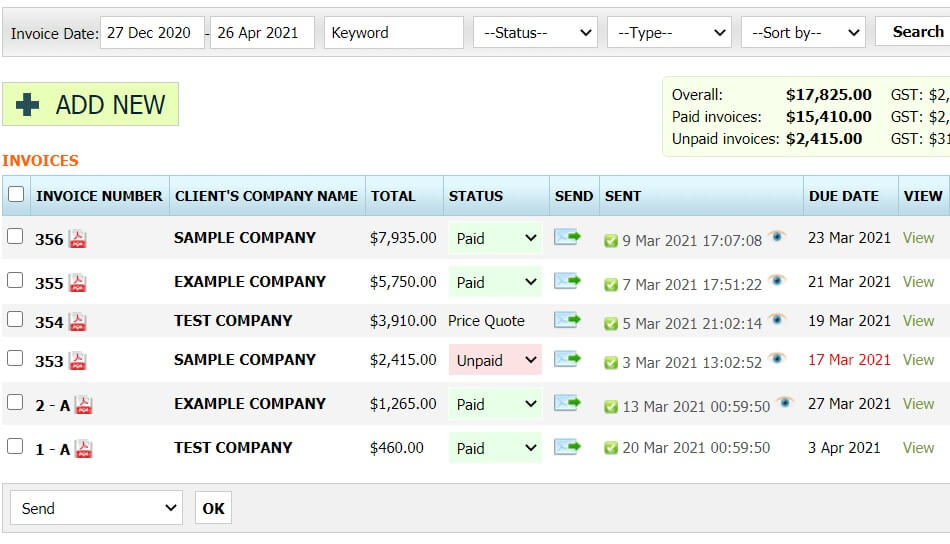 Main features of the invoicing software
The invoicing software comes with the following features that add value to the overall business processes:
Invoice creation and customization

Invoicing is the first step toward getting paid. If your system for invoicing is efficient, you are likely to get paid on a timely basis. On the other hand, if there is a delay in the billing process, there is an expected delay in the payment collection leading to prolonged payment collection time and lower liquidity.

So, invoicing software is efficient and automated, it's expected to speed up the billing and payment collection process. The invoicing system is linked with an email delivery system. So, you can directly send invoices to your customers and receive notification if there is a problem with the delivery.

Report generation and analytics

Invoicing software provide comprehensive reports and analytics tools. You get a simple screen that helps analyze outstanding invoices, overdue invoices and GST. These reports and analytics can be extremely helpful when setting credit limits and credit periods for specific customers.

Quotation

Invoicing software comes with the ability to generate price quotes for customers. The software makes the process fast, efficient, and easy. You just need to put some details and the quote is sent within seconds. If a quote is opened by the customer, you receive a notification regarding the opening. Once you perform services or deliver the product, the quote can be quickly converted into invoice and delivered to customer.

Recurring invoice

Recurring invoicing is when the business needs to continuously bill specific customers from time to time. Most of the time, the terms and conditions of the trade remain the same. Invoicing software gives an option to create recurring invoices. It means an invoice will be automatically generated and sent to the customer without any manual input. Hence, it really speeds up overall billing efficiency. Further, the importance of recurring invoice features can be different for different businesses. For instance, this feature can be more useful for the rental business.

Multiple currency management

Invoicing software gives you an option to bill in multiple currencies. For instance, you may bill customer-A in NZD and customer-B in USD depending on the currency of trade.

Billing, payment collection, and tax report

Report helps to glance at the overall billing size, the extent of payment collection and tax status for each invoice. It's specifically important for businesses that collect GST. As it makes it easy to track tax liability and calculate net tax liability/tax refunds.
So, the implementation of invoicing software can be beneficial for the business as it comes with the following benefits.
Benefits of using invoice software
Following are some of the benefits of using invoicing software for the business:
Higher business efficiency

Implementation of invoicing software speeds up the overall process. The software comes with the ability to extract relevant information required to generate an invoice. So, you don't need to manually enter data.

Higher liquidity & cash flow

Invoicing software comes with the ability to generate payment reminders for overdue invoices. This really makes life easier. Payment reminders help to speed up the payment collection function. The timely payment collection leads to higher liquidity and availability of funds. This really helps to enhance the business functions.

Online access

Invoicing software stores your data in cloud-based servers. It means you can access invoicing records at any time with your computer or phone. It really makes life easy as you no more need to open your table drawers to find the specific invoice.

Enhanced company image

The invoices generated by software contain professional formatting and layouts. The content is properly presented in terms of quantity, price, payment terms and other details. Hence, it leads to a good image of the business from the customer's perspective.

Easy auditing

Billing and accounting information is stored and highly organized in the invoicing software. And organized accounting data seems to be a blessing when you have a list of requirements sent by the auditors. From the perspective of audit, it's easy to trace specific transactions in the invoicing system. For instance, you can walk through quotations, invoices and credit notes within seconds. It helps to connect things and enhance the reliability of the data.

Similarly, easy invoicing and added flexibility are considered prime benefits of using invoicing software.

Higher security

The invoicing software companies offer cloud-based servers. It means your organizational data is secured in their hi-tech servers where IT professionals and security experts take care of it through different security protocols.
How to choose invoicing software
The choice of invoicing software is dependent on multiple factors. These factors include but are not limited to the followings:
1 - Consider your business needs – Every business is different in terms of its need for accounting and administration. First, try to understand if you need invoicing facility with limited features or if you need to send the invoices in multiple currencies, and on a recurring basis etc.


2 - Think of the integration needed to satisfy your business needs - Some businesses have complex processes and operations. And it can be difficult to handle them manually. So, if your business needs are complex, you'll need sophisticated software and vice versa.


3 - Have a look at your budget – If you opt for sophisticated and complex software, the prices may be higher and vice versa.
Furthermore, it should be noted that different software comes with different strengths. For instance, some might be good at data payment processing, some at automation and some at detailed reporting. Hence, there is a need to match your needs with the strength of the software to be implemented.
Can we get invoicing software free for small businesses?
Most invoicing software offer free version for a new business, and as your business grows, you can smoothly switch to a paid plan. We recommend choosing free invoice software that is easy to use and that can support your business growth. So, you don't have to switch to new invoice software in the future. Changing invoice software can be costly in terms of data migration and implementation of other procedural formalities.
Conclusion
The implementation of invoicing software leads to higher business efficiency, automation, reduced missed payments, enhanced company image, higher liquidity, easy accounting and easy auditing. It makes life easy for business owners to manage a business. And the good thing is that basic features of this software, like sending invoices can be used for free. However, once you have met a certain time/work threshold, there is a need to upgrade to the premium version.
The different features of the invoicing software include creating & customizing invoices, sending follow-ups, generating reports & analytics, processing & recording payments, managing bills in multi-currency, and analyzing overall revenue/receivables.
Looking for New Zealand's invoice software? Try it free: